Quote:
Originally Posted by
Aguamenti
I could be a spell. There's a spell to make a Horcrux, so why not a spell to remove one?

And you wouldn't need to destroy the object to remove the soul, because when Dumbledore removed the soul from the stone in the ring, the stone just cracked, i didn't explode.
But if the soul was sealed in the stone, not in the ring the crack would mean the stone was destroyed. The diary didn`t vanish after Harry put in the tooth, it wasn`t usable anymore.
One of the questions of a
FAQ-poll
on Jo`s site asked "Does the destruction of a Horcrux involve more than the destruction of the object?" In my opinion this implied that first it is indispensable to destroy the subject that surrounds the soul part and second that you have to do more than that to destroy it really.
__________________
W.O.M.B.A.T. Grade 1: Outstanding
W.O.M.B.A.T. Grade 2: Exceeds Expectations
W.O.M.B.A.T. Grade 3: Outstanding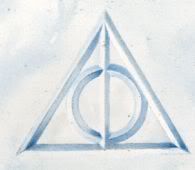 Percy wouldn`t recognise a joke if it danced naked in front of him wearing Dobby`s tea-cosy.