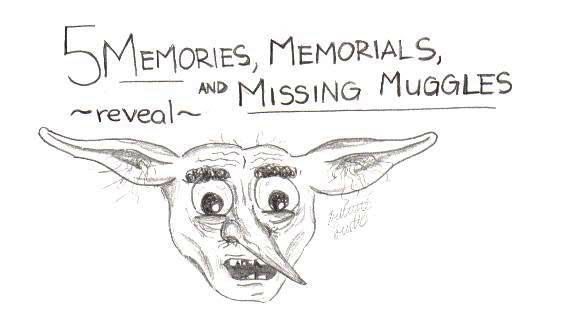 Harry was awoken much earlier than he would have liked by a knock on his door. He moaned and grunted an unintelligible response in its direction before burying his face back into his pillow.
A moment later he felt a jab in the back of his head and flopped over in his bed looking sour. Ginny was smirking down at him with her arms folded.
"What? You can come into my room and drag me outside at two in the morning but I'm not allowed to wake you up ten minutes early to say goodbye?"
Harry yawned and rubbed his eyes, "No, you're not actually." he said and Ginny laughed and sat down at the edge of his bed.
"Mum's suppose to come up here and make you all get up to say goodbye in a few minutes but I thought it might be better if we said goodbye a little more privately. She's still hasn't quite caught on to us yet and I don't think you'd want to be left alone with her if she knew. She'd start fitting you for your wedding tux about a second after she finished sobbing hysterically. Anyway I don't think you're quite ready for that," She raised her eyebrows and sighed, playing with the edge of Harry's bed covers.
"It feels weird to be going back."
Harry nodded, "It feels weird not to be going back."
"I love Hogwarts it's just that after last year everything feels different. I saw so many terrible things in those halls. I don't know what it's going to be like to walk through them again."
Harry looked at her wondering if she was going to cry but in her usual manner her eyes were dry and her face fierce, as though lost in thought or perhaps memories of torture and death that she had witnessed only months ago. He didn't quite know what to say.
She shook her head of the past and the light returned to her eyes as she smiled at him, "But Hogwarts is back to normal now, you saw to that. It probably won't be that bad anyway, I just wish you were coming too that's all."
Harry shrugged, "Sure, you'll be fine. I wish I could go back too…"
"Well, you know you can always stop in and visit." She said the fire back in her expression. "I don't know if the Room of Requirement is still working but there's always the Honeyduke's passageway."
Harry stared at her, "How did you find out about that?"
She gave him a hopeless look, "Honestly, Harry, did you think Fred and George were the only one's who ever knew how to get out of Hogwarts in secret. I caught them sneaking out one night in my second year and I threatened to hex them if they didn't tell me where it went. Michael Corner and I used to use it sometimes to get away for a while. A few people even used it to escape last year but since it wasn't as well hidden as the Room of Requirement they sort of stopped using it. Dean was the last one I think."
"Oh." Harry said. He should have known Ginny would have found out about it being the sister of the twins and nearly as mischievous as them, or at least as George was and Fred had been. "Yah, I'll come visit you then."
"Good. Well, I've got to get down there soon or else mum will start having a fit but I really did want to say goodbye."
"Goodbye." Harry said with an innocent smile.
"Shut up!" She laughed and leaned over to kiss him. It was a feeling he was beginning to know well.
A few minutes later Mrs. Weasley yelled that Ginny was going to miss the train if she didn't get down there and eat her breakfast. Ginny gave Harry one last kiss and then ran out the door calling, "Coming mum."
Harry fell back into his pillow, all thoughts of sleep erased from his mind.
Two minutes later another knock on his door came. This time it was Mrs. Weasley who poked her head into the room.
"Harry dear, I'm going to be taking Ginny to the station in a moment and I thought you'd like to come down and say goodbye."
"Oh, yah. Thanks Mrs. Weasley."
"Of course dear. I have your potion ready too; Ginny's already had her half."
She smiled and closed the door.
Harry got up and changed from his pajamas to jeans and a t-shirt and headed out into the hallway where he met a very sleepy looking Ron.
"Blimey, I'm glad I'm done with school. Can't imagine another year of homework. I'll bet you anything Hermione's already sent half a dozen letters asking if she can do another year or two by owl."
"Ron!" Hermione had just caught up with them from behind.
"Oh, sorry, didn't see you there."
Mr. Weasley looked up cheerily at the three of them as they entered the kitchen but before he could utter a word of good morning Kreacher had appeared out of nowhere and flung himself upon Harry.
"Master! Kreacher has heard about Master's attack. He came back soon as he heard to see Master and to make him feel better. Is there anything Kreacher can do for Master?"
Harry patted Kreacher's wrinkled head very lightly. "Uh, hello Kreacher. I thought I asked you to go help Mrs.Tonks for a few days?" he said, recalling the night when Kreacher had tried to force Mrs.Weasley to have some tea and crumpets-- it had also been the night of the attack.
"Kreacher knows this. But he couldn't stay away when he heard about Master being injured. He had to come back and see master. Kreacher's toes are still bruised from punishing himself with the Tonks woman's piano…."
"Er…Well, thank you Kreacher but I'm fine, really. I think you'd better go back and help Andromeda for a bit more before Mrs. Weasley comes back down and sees you here."
Kreacher seemed to struggle internally for a moment, "Master is not feeling hurt or in need of Kreacher's assistance?"
"It's not that I don't want you here you Kreacher, you're very, very helpful, but I'm really okay right now. Andromeda could use some help though with Teddy and I'd like you to go help her out… please." He added at the last second after a look from Hermione.
Kreacher studied Harry for a second as though waiting for him to look sick or to cringe in pain or give any sign that he was really in dire need of assistance but at last he seemed to accept that Harry really was perfectly okay and he nodded and disappeared with a loud crack.
Harry sighed and looked over at Hermione who was beaming at him.
"Oh thank heavens you're all down here!" Mrs. Weasley said hurriedly as she bustled down the stairs with a load of Ginny's school things, Ginny following behind her, heaving along her trunk which was about three times her size. "We're going to be late. Say goodbye now quickly!" She motioned with a wave of her hand and continued out the door to stuff the luggage in the trunk of the car.
Ginny put down the trunk with a gasp and clutched a stitch in her side. Mr. Weasley gave her a big hug.
"Do be careful now, we don't want anymore trips to the hospital."
"I will dad." She said reassuringly and he kissed her on the forehead and hugged her again. Then he picked up her trunk, with considerable difficulty, tipped his hat to Harry and the other's saying "Off to work," and walked out the door.
Hermione hugged Ginny next with a squeal and when she let go her eyes were glistening and she said, "Don't forget to write. I want to know everything that's happening, okay?"
Ginny smiled comfortingly at Hermione's tearful face and patted her gently on the back saying, "Of course I'll write, Hermione."
Hermione stepped back crying quietly and Ginny turned to Ron and gave him a hug. Ron sighed, "Blimey this is weird. I feel so old."
Ginny giggled and ruffled his hair, "Oh yah eighteen. We'd better get you Aunty Muriel's walker pretty soon."
Ron grimaced but allowed her to kiss him on the cheek. "Don't get into any trouble while you're there you hear me? Just because I'm not there to watch over you doesn't mean I won't hear about it."
She gave him a mocking look "Watching over me? What like all last year, while you were out saving the world? Or before that, when you were
such
a good a prefect."
She ignored Ron's incredulous face and turned to Harry. She looked over her shoulder for a second at the form of Mrs. Weasley trying to shove the enormous trunk into back of a Ministry car.
"Well, mum's not in here and dad's gone to work so I guess I could've waited and given you your goodbye out here anyway," Harry noted Ron opening his mouth to say something and Hermione's hand hitting him in the shoulder, Ginny drew closer to him, taking both his hands in hers.
"Now, I'll want weekly visits, plenty of letters, you'll have to meet me at every Hogsmeade trip and you have to promise me you won't go off on any heroic adventures without telling me first," Harry opened his mouth to protest but she put up her finger, "You can go be brave and noble and stupid, you know I would never expect anything less, but send me an owl first. Alright?"
He nodded.
Just then Mrs. Weasley opened the door and Ginny released Harry in one fluid motion and patted him on the back innocently, "So see you at Christmas then Harry?" she said casually.
"Yah, Christmas. Oh and say hi to Luna for me will you?" He asked with a smile.
"Will do." She answered returning the smile.
She shook his hand vigorously as Mrs. Weasley came over watching them curiously. Mrs.Weasley studied them with a perturbed look on her face then after a moment seemed to wave it off.
"Alright in the car now dear. Come on we're going to miss the train, if only you'd had the chance to take your apparition test! Oh the time it would have saved us. Let's go, let's go." She turned to Harry and the others, "I'll back in a bit, dears. Help yourself to some porridge there on the stove." She nodded towards the kitchen, "And Harry, take your potion—I'll know if you haven't." She gave him a meaningful look as she pulled Ginny through the door.
And then they were gone, the little Ministry car that Mr. Weasley had borrowed scuttling away down the road in a cloud of dust.
Harry looked at Ron who still looked slightly distraught from Ginny's comment. Hermione gave Harry a smile and pushed Ron to towards the table for breakfast, as she passed Harry she leaned over and whispered in his ear, "That was smooth." A few seconds later she turned again, already ladling porridge into Ron's bowl and said, "Do take your potion Harry."
"Right." said Harry dully and grimaced at the horrible liquid seated on the countertop mocking him with every pop and bubble.
He decided to just get it over with quickly and after several dry heaves he managed to empty his cup. Then Harry served himself some breakfast and sat down with the other two.
All of a sudden Ron put down his spoon mid-bite and said "It's not like I wanted to leave her alone with those insane people, I was out with you two saving her skin as she knows it. And I
was
a good prefect too. She doesn't know what she's talking about and I bet you anything she's going to end up in trouble this year and then she'll wish I'd been there." He wrinkled his face up angrily.
"Oh yah because after being imprisoned in the castle, tortured by maniac death eaters, leading a rebellion against their tyrannous rule and attempting to steal a sword out of the headmaster's office--
all
without your help, a year of studying Giant Wars in 1639 is really going to be beyond her." Hermione said sarcastically.
Ron glared at her.
"She'll be fine Ron. In case you haven't noticed yet, she can take care of herself. Harry knows that, he's not worried about her, are you Harry?"
"Erm. Yah, I know she can take care of herself."
Hermione nodded at Ron. "See. And besides she's not going to do anything stupid or break any rules like you two. She didn't want anyone to know but McGonagall made her Head Girl this year and she's Quidditch Captain too because she was the only decent Gryffindor left on the team."
Harry almost spit out his porridge and Ron actually did, "What! Why the bloody hell didn't she tell anyone?" he blurted out.
Hermione scowled at him, "She did tell someone, she told me. She didn't want people making a big fuss—"
Harry interjected "She could have told me!"
"You would have made a too big a deal out of it—"
"—No I wouldn't!" Harry bellowed.
Hermione gave him a silent stare.
"Okay, maybe I would've-- but what's wrong with that? This is a big deal, she should have told us. I could have bought her something or—"
"See that's exactly why she didn't want to tell you. Both of you." She added looking at Ron, "If she had told everyone. There would have been a huge party and too many gifts and her mother would have never stopped crying. She just wanted some peace and quiet her last few weeks of summer and you can't blame her." She looked at Harry, "She wanted to spend time with you, just together, without a whole big fuss. She's planning on telling everyone in a few days so that you can all celebrate while she's safely at Hogwarts."
Ron picked up his spoon and held it for a second, thinking, "I still say she should have told us. And I still say she better keep out of trouble, and—"
"Just eat Ron." Hermione looked at Harry.
"You can buy her something fancy if you want but you know it won't matter to her at all. She doesn't want anything else but you. If you do get her a gift at least wait till after she's told everyone properly, I wasn't suppose to say anything."
Harry sighed and took a bite of porridge. He was still going to buy her something.
The rest of the morning was spent talking together, they discussed they're plans for the future, the people they wanted to see again, the places they wanted to visit and all of their talk made Harry feel incredibly happy. They made plans to go to Diagon Alley in the coming week (Harry was bursting with frivolous things to get for Ginny to celebrate her new positions, many of which he knew she would never want in a million years). Hermione said she'd been looking through her pamphlets and that she had decided to go into a new Ministry internship that had been started by Percy with Kingsley's encouragement. Harry told them about his determination to be an auror. Hermione beamed at him, and Ron clapped him on the back.
"'Course, knew you'd go for that. I was sort of thinking of that myself, not that I'd be anything next to you, but I always thought it'd be cool."
Hermione was still beaming at him as she said "You'll be wonderful Harry." A moment later she started rumaging in her bag, "I'll have to get you started on some basic NEWT study material so you can take your test soon." She pulled out a quill and began jotting notes on a pad of parchment. Harry looked stunned. Ron had a similarly confused expression on his face.
"Wait what? I didn't take my NEWTS last year when I was suppose to. I've missed my chance haven't I?"
Hermione gave the two of them a pitying look, "Honestly, don't you two know anything? How do you think students who don't attend Hogwarts get jobs that require NEWTS?"
Harry and Ron just stared perplexed, "Anyone can take them at any time. You just have to go apply, they give you a study book and set a date and then you come and take the test. I've been studying all summer and I'm going to take them mid-April of next year, they don't have a lot of open dates and that was the earliest one so if you two hurry you'll be able to make it too."
Harry looked at Ron whose face fell at the prospect of more studying.
"Well, I guess I should. If you do it I will, Harry."
"If that's the only way I can be an auror then I suppose I'll have to." Harry looked back at Hermione who was already busy scratching out a very long list of study materials for them both.
"Do we have to do homework?" Ron asked apprehensively.
"Well, concidering you're not a school that would make any work you do
home
work and yes you will have to work unless you plan on failing in which case why bother anyway." She answered without looking up.
"Ugh." Ron moaned. "Come on Harry, let's go play quidditch or something. Listening to this is just making me depressed."
Harry agreed and Hermione decided to sit out by the pitch and watch them. They played until the sky started to darken and Mrs. Weasley called them in for dinner.
The five of them sat around the table and it was a sort of sad occasion. The table hadn't been this empty all summer and it seemed unnaturally quiet. Bill and Fleur were still living in their own home together on the coast, Charlie was back in Romania for another year with the dragons, Percy was living by himself as he had for the past three years and George was rooming with Lee Jordan in his premises above their shop and now Ginny was off at Hogwarts. If Harry and Hermione hadn't been staying at the Burrow over the summer then it would have only been Ron left with his parents.
To try and spark up some conversation, Mr. Weasley informed them all of what had been happening at the Ministry lately. Kingsley was being welcomed beyond all reckoning as the best Minister of Magic yet and the support the New Ministry had earned was making it easier than ever before to bring about the changes they needed.
The goblins had not only signed their treaty of official peace but they had agreed to form an industrial alliance. A new building was erected in the center of London titled the Office of Magical Research and Studies and a team of over fifty researchers, some goblins and some wizards, had agreed to share their secret crafts with each other and use their combined knowledge to further the world's success. So far a team of wandmakers including Olivander and a few others had divulged everything they knew about wand making and the goblins had taught them in return their ancient art of metalworking and weapon craft. Apparently they were working on the creation of a new type of wand made of a special wood injected with a goblin-made metal alloy that not only enhanced the wand's magical properties but also made the wood indestructible. Several other experimental objects were being worked on including a new line of Quidditch supplies but Mr.Weasley said there wasn't much information on those yet.
Not all the goblins were exactly thrilled with the new alliance or the sharing of their ancient secrets but most had accepted that the rebuilding of this New World required the release of previous prejudices and the effort that everyone was making towards the goal of peace and inter-magical cooperation was immensely well greeted.
The giants were happy now and kept well to themselves in their new land which was large enough to let them roam without such tight living conditions that had caused their previous decline. Kinglsey ensured that every possible protection was put on their territory to ensure that muggles would leave them alone and they appreciated the solitude that had been robbed of them for so many years.
One more death eater had been caught in the southernmost part of Wales where he had been trying to bewitch a family of muggles to fight each other. It had taken a while to bring him down but they caught him and brought him to Azkaban. There were still two out there though, including Carrow, but they were wise enough to stay hidden.
Having the New Ministry successfully recreated meant that those who had been previously holding it back were now out of the picture for good. This included Umbridge who had been tried for numerous charges of torture, tyranny, child abuse, abuse of power, attempted murder, and numerous other infallibly criminal acts. Needless to say she was now nicely stowed away in Azkaban.
The three of them told Mr. and Mrs. Weasley a bit about there plans for the coming months, how Hermione was going to sign them up to take their NEWTS with the Ministry course in April (Mrs. Weasley was delighted to hear it) and that they were all thinking of jobs for the future. Harry had asked a bit sheepishly if it would be okay if he stayed at the Burrow for the rest of the year because he didn't really feel ready to live by himself and Grimmauld Place was hardly worthy of human habitation. He supposed the Dursley's would be back at their home now, wherever they had been taken during last year, but there was absolutely no chance he would ever return there to live. Mrs. Weasley had told of course he could that she wouldn't dream of sending him anywhere else and then told him to help himself to thirds. Harry supposed that was the end of that and accepted the large bowl of steaming beef stew she held out to him.
After dinner, Harry and the others walked up to Ron's room and shut the door. Harry and Ron collapsed onto the bed which was still as orange as ever bearing the Cudley Channons logo on it, and Hermione seated herself in a chair. Ron played idly with his wand making objects zoom about the room or do somersaults in the air. Harry splayed himself out on the bed in boredom and Hermione watched Ron from her seat.
"You two are going to have to start your study programs soon if you want to pass your NEWTS by April." Hermione said as Ron made a quill do a spectacular dive through the handle of the waste bin and then triple flip through the air to land neatly on the desk. They both gave her irritable looks.
"Well, I'm just saying. Just because school is over doesn't mean you can stop thinking. Things are only going to get harder now and you have responsibilities. It's always good to get an early start on things."
Ron let the quill stay grounded where it laid "I think I'll go to bed."
Hermione rolled her eyes, "You're only going to get more behind the more you delay. It may seem like you have plenty of time now but before you know it it'll be time to take the exams and you'll be the one wishing you'd had more time to study."
Ron sighed and started to retort but caught himself and said instead, "You know what? You're right Hermione, I'll get started first thing in the morning." and leaned back with his arms behind his head and a yawn.
Hermione looked slightly taken aback but pleased as well and turned to Harry as Ron closed his eyes.
"Well you should start too Harry. I've gotten together all the books you'll need to read and study and I'll help quiz you when you both when you finish a chapter."
Harry nodded, Ron said nothing as he was already half asleep.
"You'll be studying from the same books as Ginny but we've got less time to learn the material. She'll be taking the test along with the rest of the seventh years and that's not till the beginning of June. We'll have to work extra hard because we're learning by ourselves whereas at school you learn from proper teachers."
Harry nodded again picking up a crumpled bit of parchment and tossing it into the air catching it again idly as he lay staring up at the ceiling.
"I wonder who'll be filling in the missing posts this year." Hermione said, talking mostly to herself. "There's Defense against the Dark Arts, and there's also Transfiguration now that McGonagall has taken up headmistress with Snape gone." Harry shuddered involuntarily as a voice suddenly found its way into his head saying 'look at me!' He tried to push the memory away, "Oh and Muggle Studies will need a new teacher too! Poor professor Burbage. So many deaths, I never really thought about it. I wonder if they finished that memorial yet for those who died during the war. You'll have to look around and see when you go visit Ginny, and get a list of the new professors too."
Harry sat up on one elbow, glad that his mind had found a distraction from the image of Snape's bloody, mangled body and his the sound of his dying words.
Hermione waited for him to say something but he didn't.
"What's wrong?" she asked him.
He didn't answer; he was weighing his options in his head.
Hermione raised her eyebrows and smiled. "Oh, go on! Go surprise her Harry."
Harry looked up, somehow not surprised that she had known what he was thinking, "You think I should?"
"Why not? Besides even if I told you to let her be you'd still go."
Harry nodded, "True," he said and she laughed.
"They're probably still milling around in the Great Hall and the common rooms after the feast so if you hurry you should be able to catch her she goes to bed."
"I'll apparate to Hogsmeade and take the tunnel through to Hogwarts. She knew about the passage in Honeyduke's. Did you know that?" He asked Hermione. Ron gave a tremendous snore from behind him but didn't wake.
"Yah, she found out from Fred and George a while ago. Apparently they were going to use it to get away with the sword last year, because Neville was still working on getting the Hog's Head passageway into the Room of Requirement, but Snape got them first."
Harry looked away suddenly at the mention of Snape's name. Hermione noticed his sudden solemn look.
"Harry, what's wrong?"
"Nothing." He said, angry with himself for letting her catch his change in mood, but she wasn't convinced and he decided it was useless to hide his discomfort.
"It's just," he sighed, "It's just thinking about Snape makes feel sort of weird. We haven't talked about him at all really but every time I hear his name I remember all that horrible stuff from last year. I mean you can't go you're whole life hating someone and then just forget it all because they did one good thing." He felt better letting it all out; it had stayed hidden at the back of his mind all summer. "He was terrible to me. You were there; he tortured me, and mocked me and gave me detentions for no reason. He took points away from me just for breathing too loud. He said horrible things about my dad; he taunted Sirius and made it even harder for him to stay cooped up in his parent's old house. Then suddenly I find out he loved my mum and tried to save her life and that the whole time he's been loyal to Dumbledore and the Order and taken all the blame anyway! That's not fair! Why can't I just go on hating him--it was so muc easier when I knew what a slimy git he was. I don't know what to think about him now. I mean, he did save my life--and everyone else's for that matter. But does that erase a lifetime of cruelty and hatred? I've tried not to think about it. I want to go on hating him but whenever I hear his name I see him lying on the floor bleeding and looking into my eyes with that terrible pain. I see him crying in Dumbledore's office over my dead mum, I don't know what to think anymore. How could he have loved her? He hardly seems capable of love at all! How could she have been friends with him?" Harry took a deep breath; it felt good to have gotten that off his chest. It was something he had refused to think about all summer but letting it out brought him a sense of relief.
Hermione bit her lip and looked up at him rather stunned, "I think, you just have to learn how to forgive him somehow. I know how horrible he was to you and everyone else too, but he didn't betrayed us in the end. One good thing doesn't erase all the bad things but his life was so pitiful anyway. Just forgive him and let his memory die in peace." She paused as though thinking, "If he loved your mum so much, maybe he was so terrible to you because it hurt him to think that her death was his fault, and you were a constant reminder to him of that. Maybe it was the pain that made him cruel."
Harry thought about this for a moment and knew that it was true. That look of hatred in his eyes that had burned into Harry from the first moment he ever stepped into Hogwarts, had always seemed to hold something entirely unrelated to Harry himself. Perhaps it had been his pain that had made him hate Harry so much. The though made Harry feel horribly guilty as he once again heard 'look at me' in his head.
"I never told anyone else the truth about him."
Hermione eyed him carefully.
"I told you and Ron and Ginny but I never let anyone else know. I let everyone go on despising him even though he gave his life for me."
Harry felt suddenly sick. He stood up but Hermione took his hand.
"There's still time Harry. You can tell people now."
Harry didn't hear her. He remembered back to the first few weeks after the battle at Hogwarts when everyone had been celebrating their freedom and rejoicing over the end of such a horrible era. The media had begged for interviews with him to hear his story but Kingsley and Mr. Weasley had told them to leave him alone until he was ready. He had been so grateful at the time to not have to relive it again so soon, but now that he thought about how many months he had let slip by without revealing the truth, he just felt sickened by it. Kingsley had taken him aside and told him that he had earned some time to relax away from the prying eyes of the world. He had made the Daily Prophet leave the Burrow alone and forced the media to stop asking him questions. Instead of facing the truth and being brave, he had spent the summer playing quidditch and laughing with his friends. He remembered Dumbledore's words after he had witnessed Voldemort's return in the graveyard more than three years ago, 'Numbing the pain for a while will only make it worse when you finally feel it'. He knew the truth of that now. His chest tightened painfully and he sat down again on the bed. Hermione sat down beside him and watched him carefully.
"Harry, it's alright. None of us wanted to think about it. You had been through so much already. You had every right to not want to talk about it so soon. Kingsley told you that was fine. If you feel so bad about it you can just tell him the whole story now. Send him an owl tomorrow and tell him you're ready to tell your story. That's what he wanted you to do anyway, to take your time until you were ready."
He stared ahead at the violently orange wall, trying to stop the pounding pain in his chest. Hermione looked away for a long moment and then continued slowly, "You can't blame yourself for wanting to forget Harry. However much you feel guilty for it now, you have to remember what you've done. Nobody here has been through nearly so much as you have. You lost so much Harry,"
"Not as much as he lost."
"But he chose his path and it was his own undoing. You can't blame yourself for his mistakes. He knew where his path would lead him and he took it anyway. He gave fair reason to hate him."
Harry supposed that was true enough.
"What's done is done. Any regrets you have can only be fixed in the future, there's no use dwelling on what you did in the past. Professor Snape didn't realize that Harry, he never did, he lived in the past all his life and never forgave himself for what he did, that's why he was so miserable and that's why he held such a grudge against the world. It wasn't you he hated it was himself." She said the last words very quietly but Harry heard them. Snape-- Professor Snape, Harry reminded himself-- had hated everyone because the only person he had ever loved had died from his own deeds. He had killed his own chances of happiness and killed himself along with them. The only thing he had ever hoped for throughout that long life of misery was that someday he would be able to redeem himself. Harry had to forgive him. His anger and sadness was suddenly lessened as he thought that. It might take a bit more time to fully be able to forgive but he would try. He
did
have the right to bide his time with the truth because it had not been his mistake that lead Snape to his miserable doom. He, Harry, had made the right choice and Snape had made the wrong choice. If his last dying words had showed him Lily's face through Harry's eyes once more, then Harry had done his part and that was all that Snape had asked. Harry felt a sudden rush of pity towards him. He had been brave, in his own way. He had been brave enough to give everything for love, to give his life to make sure that his mistakes were atoned for. Harry felt he anger leave.
He looked up at Hermione who hadn't said anything more but was looking at him sadly her hand still holding his. He nodded.
"You're right. He paid his debt. I guess I'll write Kingsley tomorrow like you said. I'll make sure everyone knows that didn't betray, well at least not
this
time. He deserves a clean slate if nothing more."
Hermione smiled at him and squeezed his hand. Harry laughed, "I'm sorry I sort of exploded on you like that. It's been kind of building up for a while and everytime I hear his name it just grows a bit more, and this time I just couldn't push it away."
Hermione nodded and let go of his hand.
"I knew you'd take a while with to talk about this Harry, but it was something that had to come with time just like everything else. I noticed the look you got whenever we'd mention Snape, but Ron and Ginny were always there and the conversation never stayed on him long enough to see what it was you were thinking. I'm glad you got it out tonight. You had to do it eventually."
Harry stood up and put his hands in his pockets feeling glad to have come to terms with the many issues of Professor Snape at last. He wasn't exactly sure what to do next though. Suddenly Ron's head dropped from the bed post and he woke with a start and shouted "Nargles!"
They stared at him for a second.
"What?" he said sleepily.
They both laughed. It felt good to laugh.
"Go back to bed Ron. You need your sleep so you can study tomorrow." Hermione got up and whispered to Harry "Go to Ginny, you need some recooperation." and pulled back the covers to help Ron into his bed. Harry moved towards the door and Hermione followed a few seconds later once Ron was snuggly tucked away.
In the hallway Harry paused and looked back.
"Thanks Hermione." He said as she shut the door quietly.
She smiled her response, "Go on now Harry, you need a night away from here. I'll tell Mrs. Weasley that you went to talk to Kingsley tomorrow morning before I leave. You can stay in Hogsmeade for the night, visit Ginny and Hogwarts and then do whatever else you need to do."
"Okay."
He meant to say more, to thank her again but he couldn't find the words. She seemed to understand all the same and she pushed him towards his room with a smile. "Go." she said.
He went and she disappeared up the stairs towards her room. Harry grabbed a jacket, his invisibility cloak, his leather poach that held his money and the few odds and ends from the year before. Then he walked carefully down the stairs, it was quite dark now and the rest of the house was quiet. He went out the door and down the front of the walkway till he had exited the grounds of the Burrow, there he turned on the spot and disappeared into the darkness.
----------------------------------------
When he his lungs were finally allowed to breath again he was standing in front of the Hog's Head. There were a few lights still on around the square from the many late-night pubs but the rest of Hogsmeade was quiet and dark. Harry knocked once on the door and a light flicked on in the upstairs window. He looked up and heard a creak as the window opened and the grimy face of Aberforth peeked down holding his lit wand aloft.
"Who's that? Harry? Harry!" Before Harry could say a word the head was gone and a few moments later the door opened and Aberforth beckoned him inside.
The pub was empty but the fire was still smoldering in the fireplace and a few scattered, half-empty mugs littered the tables.
"What can I do for you Harry!" He said turning and beaming at him through his scraggly beard.
"Well, I was wondering if I could stay here for the night? I've got money and it'll only be for a few hours. I have something to do up at the castle and then I need somewhere to sleep after."
Aberforth walked to the fire and stoked it with a poker that had been leaning against the wall.
"'Course you can. You're always welcome here," The fire picked up a little and he put a new log on to keep it going. "I'll show you to the guest rooms. Come on." He beckoned Harry up the stairs into a shabby little hallway with three doors leading off from it. "So Hogwarts business eh? What have you got to do so late? Normally I would say you wouldn't find anybody awake at this time of night but this time it seems the rules have changed. I suppose they've all stayed up in the joy and excitement of being reunited with everyone after last years events."
"Erm, yah. Well that's good then. I just had a few people I wanted to see and a few things I wanted to check up there."
"Right well, here you are." He opened the first door and lit a lamp on the wall with his wand revealing a rundown but cozy little room. "By the way, a girl was down here earlier, came through the portrait tunnel and she told me to tell you that the Room of Requirement was still working if I ever saw you come down to Hogsmeade."
"Oh, thanks. Well in that case can I go ahead and use the portrait tunnel now?"
"Sure thing. You know how it works. Good night."
He walked out the door and down the hall to his bedroom. Harry set his coat on the little squashy bed which smelled strongly of goats and mildew, then tucked his invisibility cloak into his pocket, put the pouch into his jacket and went down stairs to the portrait of Ariana.
Five minutes later Harry was standing in the Room of Requirement. He was glad to see that it had survived the fire from Crabbe's curse. It was, at the moment just a hallway with the portrait tunnel on one end and the door on the other. Harry guessed that since Ginny had been the last one to use it, she must have left it this way so that he would be able to get in. He pulled the invisibility cloak over his head and opened the other door. The refurbished halls looked beautiful, exactly the same as it they had before, except cleaner and newer, sparkling with new marble and freshly laid stone. It felt good to be back.
Harry made his way up to the Gryffindor tower under his invisibility cloak. It was getting quite late but there were still lots of people milling about the halls, happy and full of excellent food. He was surprised, actually at just how many people were still awake. He remembered everyone being too tired to do anything the first night back but tonight it seemed the whole of Hogwarts was awake and celebrating their return.
By the time he got to the portrait hole he had realized that he didn't know the password. He bit his lip, angry for forgetting such an important detail. He looked around at the people walking by, hugging the wall so as not to bump into any of them and hoped that some of them would open the door soon.
Almost immediately a group of Gryffindors strode up to the picture of the Fat Lady and said 'Victory!" to the portrait which swung open to let them in. They were giggling among themselves and Harry was able to slip in carefully after them as they clambered up into the common room. It gave Harry such a rush of happiness when he saw the room that he nearly cried out in glee. It was a place he known and loved for so long and seeing it again was like coming home. The fire was blazing and there were happy faces everywhere, some playing exploding snap, some messing about with Weasley Wizard Wheezes, others swapping wild stories about various aspects of the excitement from last year, still others were trading Chocolate Frog cards by the fire and a few just sat and talked idly about nothing. Harry noticed a couple of people he had knew like Romilda Vane (he felt immensely glad that he was invisible as he walked past her) who was talking animatedly in one corner of the room surrounded by several other girls in her year. Harry's stomach gave a lurch as he spotted Dennis Creevey asleep in an armchair by the fire, curled up in a ball, the firelight dancing on his pale face.
Harry made his way to an empty corner of the room so he could avoid bumping into people and looked around to try and spot Ginny. At first she didn't seem to be in there and his heart sank. It was another thing he hadn't thought about, it wasn't possible for a boy to climb the steps to the girl's dormitories and so if Ginny had gone to bed then he had no hope of getting to her.
But at last he spotted her in the farthest corner of the common room. She was sitting amongst a large group of girls and boys who were all talking and laughing together. Harry's heart soared and he made his way over to her carefully dodging bodies and fanged frizzbees until he was standing directly behind her. Someone was telling a joke and everyone's attention was focused in their direction but Ginny somehow seemed to sense someone behind her, it reminded Harry of the moment in the forest when he had walked by her under the cloak, she turned her head suddenly and looked straight through him, her eyes searching, a glint of hopefulness in them but the look faded away as she saw no one there and she turned back looking slightly disappointed. Harry waited for the punch line to the joke and while everyone was laughing he leaned down and whispered in her ear, "It's me."
She looked around quickly and smiled, not at all the reaction he would have expected. He thought she would scream or jump but she gave no sign of fear and merely looked as though hearing his voice behind her out of thin air when there was nothing there and he was suppose to be a hundred miles away was a perfectly logical occurence. A moment later she excused herself from the group (Harry noticed a few of the boys look crestfallen as she got up) and walked out of the portrait hole, carefully holding the door open and peering through, as though checking to see if someone was in there, so that Harry could crawl out. Then she walked through the halls and Harry followed. She made no acknowledgment of his presence as they walked but walked gracefully through the castles until she was outside and even then she continued on walking, Harry hurrying along in her wake until at last they were away from everyone else and she stopped and sat down. They were outside under the big tree by the lake that they had spent so many warm afternoons under during previous years. The sky was bright with the thousands of stars and they lit the lake up like diamonds lurking just below the surface.
Harry took off the cloak and Ginny looked up at him smiling. He sat down next to her and looked out over the lake. It was incredibly beautiful at night. Every bit of it shone with the light of the stars and the moon, and it glimmered brilliantly against the blackness of night. The trees swayed lightly in the cool breeze and there was perfect silence but not unnaturally so. It was peaceful and perfect.
Ginny was looking out over the lake too and she was smiling.
"How'd you know I was there?" Harry asked.
"I don't know, I know you too well. I guess I can just sort of feel it when you're around even when you're invisible."
"Weird."
"Yah, I guess so."
"So did I surprise you though? Or did you know I was coming with your crazy new psychic powers?"
"Psychic?"
"Oh, well I guess it's sort of a muggle thing."
"I see." Harry waited for her to answer the question; she looked at him out of the corner of her eyes, her smile widening.
"Oh, come on!" Harry said smiling "I surprised you-- you just don't want to admit it."
She put her head back and laughed, "Yes. Yes, you did manage to surprise me. I've been gone a grand total of twelve hours and you show up behind me in the common room at eleven thirty at night completely invisible and whisper in my ear. I've got to admit you did surprise me."
She turned to look at him. "But I'm glad you did. I missed you already."
"Well you better have."
"Hmmm….." she leaned over and kissed him.
After a long moment she let go and turned away towards the lake again. Harry scooted up against the tree so that he was horizontal to the lakeshore and Ginny leaned back against him, her head in his lap, her legs pointing towards the lake and her ankles crossed leisurely. One of her hands held his and the other played with the grass beside her. Harry pulled his fingers through her long hair absentmindedly as he stared out over the crystalline waters again.
"So how are things going here? What's new with Hogwarts?" He asked.
"Well…McGonagall has been replaced as Transfiguration teacher by a woman named Professor Ragsenburg, she's middle-aged, she seems nice and hopefully she'll be as good a teacher as Professor McGonagall although I doubt it. Hagrid's still doing Care of Magical Creatures, I talked to him at the feast and he's doing fine, Fang too, it's a miracle they both survived in my opinion. Muggle Studies has been taken over by this tiny old man named Professor Root. He's sort of hard of hearing and a bit batty but he seems really friendly. Oh, and Defense against the Dark Arts is back, McGonagall didn't think it was quite appropriate to continue with teaching 'Dark Arts'. Anyway, that's being taught by some bloke named Professor Valenstrave. I don't really know much about him he looked sort of troubled and grumpy at the staff table. He's really young though and has brown hair and blue eyes. A bunch of the girls have had their eyes on him since the moment he sat down at the feast, personally I'm hoping Romilda Vane slips him a love potion just to shake things up a bit. Um, let's see what else? Oh they put up a beautiful memorial in the cemetery, they have everyone who died for our cause on it well, mostly…" She looked up at him for a moment and he remembered Snape. She read the look on his face and looked away a second later continuing without another mention of the fact that the rest of the world still believed Snape to be a murderer, "they have Lupin and Tonks, and Fred." Harry didn't have to look at her to know that her eyes were still fierce and radiant and that she wouldn't shed a tear, "Collin is there too. Poor Dennis…he's a fifth year now! Can you believe it? Little Dennis who fell in the lake first year. He's so quiet and sad all the time. I talked to him today and he's as sweet as ever but just so sad." She sighed. "Romilda is back with a vengeance. She's been telling everyone that before Hagrid brought you out supposedly dead, you had found her in the forest and told her of you're undying love of her. She didn't appreciate it when Luna walked in on her story during dinner and asked her if she used a Spinturk to get into the forest so fast because she'd been running madly through the escape tunnel about five minutes before Hagrid brought you out."
Harry grinned, "So how's Luna. Did you tell her hi from me?"
"Of course. She told me to tell you hello and that she's sorry for the way her father behaved last year and that she's planning on sending you a wrakspurt remover to make up for it. I told her you'd be delighted."
There was no hint of sarcasm in her words and Harry remembered with a burst of appreciation how kind and loyal she had always been to Luna and Neville despite their less than notable reputations in the past.
"So how are things back home? Anything exciting happen in the last twelve hours?"
"Not really. Hermione's signing me and Ron up to take NEWTS at the Ministry in April. I didn't know you could take them outside of school."
"Oh. Yah, she told me she had signed up for that at the beginning of the summer. She wants to take a NEWT in about seventeen different subjects so she can apply for every job on her list."
"That's Hermione for you." Harry said grinning.
"Yup. Ron won't have to worry about money; she'll probably end up discovering how to turn dirt into gold or the cure to Spattergroit or something amazing like that and make a million galleons."
"Yah probably-- wait, what do you mean 'Ron won't have to worry about money'?"
She raised an eyebrow studying him. "Are you serious Harry? You haven't noticed anything going on between them since, oh about, forever? Doesn't Ron ever talk about her?"
"Well, yah I mean I know they're pretty much together now but, oh, well yah, I guess I know what you mean. So Hermione's serious then?"
"Hermione's just been waiting for Ron to get his head on straight the last five years. He's such a prat! He always did the exact opposite of showing her he loved her. But for some odd reason he's suddenly made a complete turn around and Hermione's really happy about it."
Harry tried not to betray that he knew what had caused the mysterious change in Ron's behavior because he didn't think Hermione would be quite as thrilled if she knew he had been taking tips from a book about winning over women.
"So what have you been thinking about doing for a career? You know after you graduate." He said changing the subject quickly; she took the hint without complaint.
"Well, I don't know. I haven't really thought about it much. I guess whatever feel's right when the time comes. How 'bout you?"
"You know how I've always wanted to be an auror? Well, I'm going to go for it. That night when we were attacked by Carrow really made me realize how much I want to. That's the only thing that I could really see myself doing happily. Besides, that attack, the way he moved, I want to learn how to stop him. It just seems right."
He looked down at her and met her sparkling eyes which were staring up at him with happiness.
"I knew you were going to say that."
He looked away feeling a little dizzy from the intensity of her gaze.
After a while Ginny closed her eyes, dozing slightly and they sat quietly for a long time.
"Harry?" the silence was suddenly broken
"Yah?"
"You know how you broke your wand last year?"
"Um, yah…" that was not what he had expected.
"Do you think it's possible to do magic without one?"
"Um, I dunno. I don't think so. Maybe. It'd be really, really hard though. I've never heard of anyone ever doing it apart from kids who can't control it yet or people in really desperate situations so I guess it has happened before but not consciously."
"Right."
"Why?"
"Just wondering. Sorry, it was a random thought."
"Okay."
She yawned and closed her eyes again. He ran his fingers through her hair again, noting how dark the castle had become and how tired she looked.
"You should get to bed now. It's really late."
"No! I don't want you to go!" She opened her eyes and grasped his arm with her other hand.
"I'll come back tomorrow. I promise."
She closed her eyes again, releasing his arm but holding his hand tightly "I don't want you to come back tomorrow, I want you stay now. Just stay here a few more minutes."
"Fine, but it's not my fault if you get a detention for falling asleep in class tomorrow."
"I don't care." Her breath was slow and shallow and her grip on his hand slowly slackened as she drifted off to sleep.
He sat for few minutes. Thinking about his conversation with Hermione earlier in the night, thinking about what he was going to do tomorrow, and thinking about learning to fight like Carrow, all the while his hands brushing through Ginny's hair, and the stars growing steadily brighter as the sky grew steadily blacker. He thought about Hermione and Ron, if what Ginny had said was true then Hermione was hoping for something more than just a relationship. That seemed sort of sudden to him, but then he supposed they had both known it for a lot longer then they had ever let on. He looked down at Ginny. Her pale skin was glowing in the moonlight like it had before. He sighed and put an arm around her shoulder's, pulling her gently into a sitting position leaning against his chest. She sighed and put her arm around his neck. He stood up holding her upright with one arm and pulling the invisibility cloak around them both with the other then he picked her up and began walking up towards the castle.
He put her down in the common room, angry that he couldn't bring her to her bed so she could sleep properly. There were only a few people left in the room now. Dennis was still asleep in the armchair and there was a boy and a girl in one corner of the room talking quietly together. He laid her in one of the big armchairs by the fire that had its back to the couple in the corner so they wouldn't see her appear there when the invisibility cloak came off of her. Then he took a small coin out of his pocket and put it in her hand. It was the DA coin. He touched his wand to it for a moment and the words along the edges glimmered for a second and changed. He slipped the cloak carefully off of her and edged back out the door, opening it quietly so that the two in the far corner wouldn't notice. He walked down the sparkling new marble halls until he reached the tapestry that marked the Room of Requirement's hiding place.
A few minutes later he was back in his room at the Hog's Head, wrapped in the dusty sheets of his bed. The smell of mildew was strong in the room but he didn't notice. All he could think about was telling the world about Professor Snape, looking at the Hogwarts memorial, and the sweet flowery scent of Ginny's hair.
----------------------------------------
Harry awoke to the clatter of noise and chattering below. The Hog's Head was open again and there were a couple of men below having a heated debate. From what Harry could gather from there muffled voices, they were arguing about whether or not turning yourself into a flobberworm while standing on your head meant you would be upside down or not. Harry suspected that several helpings of fire whiskey had been involved.
He got up, tidied up his room, not there was much to do except pull up the blanket and pick a mothball out off the pillow. Then he grabbed his stuff and headed downstairs.
"Flobberworms don't have any stinkin heads you idiot! How can you stand on your head if you haven't blinkin got one?"
"They've got heads! What do you call the squishy thing at the top if it ain't a head?"
"You call it a flobberworm that's what! The whole bloody thing's a giant squishy mass, and there ain't no top to it! Nor bottom if you really want to be going on about it!"
"Oh yah, well then how does the thing eat huh? Gotcha there, I have!"
"Why don't you go ask a flobberworm?"
"Maybe I will!"
Harry had to jump backwards as the second drunken man came crashing down in front of him and the first threw a mug across the room which shattered spectacularly against the wall in a cascade of grimy glass and whiskey.
Aberforth looked perfectly calm as all this went on and continued scrubbing dirty mugs with an equally dirty rag. He gave Harry a smile as he walked in.
"'Morning Harry! Sleep well?"
"Er, yah." he answered, dodging another mug, "Fine."
He pulled out a few galleons to pay the man for his room but he held up a hand.
"I won't take money from Harry Potter. You go on about your business boy, and come back anytime you like."
"Thank you sir." Harry said and stowed the pouch of money bag under his jacket. "Have a nice--" Harry ducked a stunning spell, it seemed that wands were now involved, "—day."
"You too, Harry, you too." And with that Harry left, glad to be out of the place.
He walked a ways down the road trying to decide how he should go about his next order of business. It was time to tell his tale to the world, or at least to Kingsley. He supposed Kingsley would be at the Ministry of Magic, an appropriate place to be when you're its Minister, so that was where he had to go. He walked to the end of the lane and pictured the red telephone booth that lead to the Ministry's hidden halls, turned on the spot, and disappeared.
----------------------------------------
Three hours later Harry was sitting outside the door to Kingsley's office. He had sat in there and told him everything, everything from the horocruxes to the hallows, to the night of the Hogwarts battle, and at last, Professor Snape.
Kingsley had listened attentively, not saying anything unless there was some need for clarification. Harry was grateful that he had not interrupted; it was something that he had needed to get out all at once, and interruptions would only have prolonged the relief that he now felt so sweetly. Kingsley had smiled kindly at him when he finished his story and said in his deep, rhythmic voice, "Thank you, Harry."
He had asked how he would feel about the public knowing the truth and Harry had replied that as long as they left him and his friends alone then it was fine. He knew it was time for the answers to be given to everyone, to give the people an answer for all their celebrations.
Kingsley had shaken his hand. He hadn't needed to say anything more because from that silent gesture Harry knew that he was proud of him, no matter how long he had taken to get the truth out. It had made Harry swell with pride to see his big dark eyes smiling down at him with acceptance and to feel his big powerful hands shaking his like an equal.
There was one last thing Harry had mentioned to him during their meeting: Auror training. He had slipped it in at the end of their conversation when Kingsley had asked him how he was doing now and what his plans were for the future. The moment the words had left his mouth Kingsley had clapped him on the back and said "Wait outside so I can free up a bit more time."
That had been about a half an hour ago. Now Harry was sitting outside the door, waiting for Kingsley to finish another bit of important business.
Harry looked up as the door opened and Kingsley walked out. He beckoned Harry foreward.
"Come with me," his voice boomed.
He took Harry across the hall and up several flights of stairs through more hallways, down an elevator, up another elevator, through a door and finally into a little office entitled "New Tactics". Inside there were several desks cluttered with papers and newspaper clippings and books. There was a young man sitting inside. He looked about 23 years old, he had dirty blonde hair that hung messily about his head, glasses that were slipping down his nose and light grayish blue eyes that glinted with the excitement of a young mind working at its passion. He looked friendly and timid and gave a sort of twitch of a smile as they entered the room, flashing his teeth brilliantly and then nervously looking back down at his books.
"This is where we've been coming up with a new program for Aurors Harry. That attack at the Burrow a few days ago is only one of many so far that have been deemed 'unusually different'. It seems that Carrow and the other escapee have learned from the best how to evade capture but not only that. They've learned a new type of fighting and defense, it's sort of odd to say but, well, it's rather a lot like muggle fighting."
Harry looked at him cocking an eyebrow, still unsure what exactly this had to do with him.
"Um, sir?"
"You see Harry, Carrow is not like Voldemort. He never wanted power or immortality, he's simple and has little ambition. However, he is smart enough to have realized that the one thing wizards can't deal with is muggles. We don't participate in muggle activities, we don't learn their ways, we have very little to do with them really. Carrow grew up on the streets of London with his sister, they didn't know they were magical, they didn't know about the magical world. They learned to be thieves and murderers from a very young age, and pain was their greatest asset in getting what they needed. They became sort of wild animals, doing anything they could to reach their own ends and losing all emotion and conscience. The two of them fought to survive and in their world you had to be the toughest, the shrewdest, the strongest and the fastest to do that. And they were the best. They could fight like lions and disappear without a moment's notice. There style is simple but like nothing any of us have ever dealt with. Amycus completely disappeared after his attack on you and Ginny but there have been reports from a few different places of similar attacks— people moving like wild storms beating up innocent people in their homes with absolutely no motive. They're hungry for pain. They have no desire other than to inflict as much of it as possible upon whoever they can get their hands on. Amycus is the one we're most worried about, his sister is safely locked away but he has evaded capture time after time. He knows how we work and he's been careful not leave a trail. The last attack was yesterday afternoon on the easternmost border of Scotland, a town called BallyWale I think. Two muggles disappeared. Anyway to get to the point here, times are changing. Our world has made incredible strides towards peace and freedom but with every step forward that good takes, the bad side takes another as well. It's an opportunity we're not going to let evade us. We'll learn to fight fire with fire, or in this case, fist with fist. We've been studying muggle warfare and we're trying to implement a new fighting technique into our auror training. This is Ezakiah Cleaves over here." He gestured behind him to the bespeckled boy, who looked up and gave another awkward smile", He's been my right-hand man in this project. Harry if you study hard and get your NEWTS done quickly this year, I'll have you be the first one to enter our new program. Would you like that?"
Harry didn't know what to say. "I, well, I—Of course. I mean yah! Of course I would."
"Good. This is a new world Harry, a new world. We're going to make sure it's the best we possibly can you and I."
Harry nodded.
"Good man." Kingsley's deep booming voice ended with those last words and he clapped Harry's back again before leaving the office with a sweep of his robes.
Harry turned back to the man in the desk who was pouring over a pile of books and clippings, he looked up as he sensed Harry's gaze. His glasses were falling off his nose and he pushed them up with his finger and smiled a shy smile, "Hi. Would you happen to know much about the muggle sport of boxing?"
----------------------------------------
It was hard to believe that he would really be getting the opportunity to train as an auror, Harry thought as he walked up the path to Hogwarts castle around three o'clock that afternoon. From the things he had discussed with Kingsley and Ezakiah Cleaves (who most people just called Ez) the new project meant learning not only advanced magic and concealment and all that but how to survive and even fight without using magic at all. Harry had laughed at Ez's many fascinated looks while Harry explained the art of karate to him. It sounded better than Harry's wildest dreams, it would be like a magical boot camp in the British Foreign Legion. He couldn't wait to tell Ron about it, but there was one more stop he had before he could return to the Borrow.
He glanced down at his watch, it was the one that Mr. and Mrs. Weasley had given him for his birthday last year and it was a good one, however many years it had been previously owned. He loved it. The time was 3: 17 pm and he was running late.
As he entered, he put on the invisibility cloak so that he wouldn't be stampeded by a hundred gawking students and rounded the castle to the farthest side where the cemetery stood. There, on the very edge of it, stood an enormous towering statue. It was made of white marble and was shaped like an open book with its pages open towards the viewers. On the marble base was written "This is a memorial to all those who gave their lives in connection to the Wars of 1998 both on these grounds and elsewhere. May they rest in peace." As Harry approached he could see many names written on the pages, carved into the marble. There were pictures of smiling faces beside each name and the dates of their birth and death.
"You're late."
Harry turned around quickly. Ginny was leaning against a tree on the otherside of the cemetery.
"You're shoe." she said walking over to him.
Harry looked down and saw that he had neglected his cloak so that part of his shoe was visible from beneath it and must have looked very odd stomping through the grass all by itself. He had forgotten about Ginny in his wonderment at the memorial. He took off the cloak as she stopped next to him.
"You said 'meet me at 3:00 in the cemetery' on that coin you left me with. I've been waiting here over twenty minutes."
"Sorry, I got caught up a bit at the Ministry but I'll tell you about that later." he turned back to the great stone book.
"So this is it." he said and it wasn't a question.
"This is it." she replied and it wasn't an answer.
He layed his hands on the cool marble and read a few of the names, 'Burbage, Charity', 1957-1998, 'Creevey, Colin, 1981-1998', 'Lupin, Remus, 1960-1998' his fingers ran down the list, each face smiling happily up at him from the cold marble, unmoving. 'Tonks, Nymphadora, 1973-1998', he took his finger away when he reached the end of the list, 'Weasley, Frederick, 1978-1998'.
"It's beautiful." Harry said.
"It is." Ginny said and her fingers found his and intertwined to touch the cool marble as one.
Harry stood reading through the list again looking at the faces of those he didn't know and those few he did. After a few minutes he decided he had had enough. He turned away and he and Ginny walked back through the grounds, steering clear of the heavily populated areas.
They talked as they walked. Harry told her about his meeting with Kingsley and how he had finally told him about what had happened that night at Hogwarts. Ginny had looked at him then and he knew she had been waiting for that. He went on to describe the new crazy plans that Ez and Kingsley were creating for the auror department. She laughed as he described to her all the new methods they wanted to teach. She had never heard of 'boxing' or 'karate' or 'tasers'. He talked and talked about the muggle army and what he had learned about self-defense from growing up with Dudley. She listened, laughing away at his animated descriptions of Dudley's favorite violent TV shows such as 'Kung-foo Hustlers'. Eventually his ramblings winded down and they returned to relatively normal conversation.
"Hello."
They both turned around quickly. Harry hadn't been paying much attention to where they were going and they had strayed far too close to the front of the castle. A pair of dreamy eyes were staring at them from behind a rather large leafy bush.
"Luna! Ah---hi!" Harry stammered looking around worried that someone else might see him.
"What are you doing here? You're too old to be a seventh year."
"Yah, I know I am. I'm just visiting. So how are you Luna?"
She stood behind the bush, her butterbeer cork necklace around her neck and her eyes looking as dreamy as ever.
"I'm fine. My dad is spending the next month in Brazil to try establish a colony of Wattlebirds there but when he gets back I will make sure he apologies. I never wanted anyone else to get trapped in there too. My dad isn't very brave sometimes but he has a good heart."
She pulled something out of her pocket suddenly and held it out to Harry. "I almost forgot to give you your wrackspurt remover. I always find it useful to carry around wherever I go. You never know when they're going to come at you."
Harry took the strange little device that looked vaguely like a shoehorn.
"Thanks a lot Luna. Really, for everything, I couldn't have done without you and everyone else last year."
"Thank you. That's quite a compliment coming from Harry Potter, the Boy Who Lived. I wonder if they can still call you that now that you've actually died too?"
Harry tried to keep from smiling. "I dunno."
"Hey Luna? If you wouldn't mind not mentioning this to anyone, Harry's not really suppose to be here and we don't want everyone coming looking for him." Ginny said as she looked anxiously up at the castle.
"Of course. I'll just go on back to my reading now like I never saw you."
"Thanks Luna. Oh by the way! That new issue of the Quibbler was really good! I think you should help you dad out a bit more, you have a real talent for it."
"Thank you. Daddy says I can help him whenever I want but I like it best when he does it. Well, I'm at a really good spot in my story right now and I'd like to know what happens next, if you wouldn't mind?"
"No of course not, Luna, we're sorry to have interrupted your reading."
"Oh that's okay. It happens a lot."
"Bye Luna." Harry said as she sat back down with her book disappearing again except for the top of her very blonde head behind her bush.
"Talk to you tomorrow Luna!" Ginny called pulling Harry away from the front of the building where there were now a number of kids outside on the grass. They walked back around to the other side where the grounds were still vacant.
"I've got to go now. Ron will be by himself now that Hermione's gone back to her parents house and he'll probably be going out of his mind in boredom if I don't get back soon."
"That's true. Knowing him he's been bouncing a quaffle off of his ceiling for the last eight hours—just wait and see. He's never been very good at finding useful things to do by himself."
"I've got to start on my NEWTS. Maybe I'll attempt the first chapter of that pile Hermione's left for me."
"Or could try and teach Ron some Kung-foo or whatever that nonsense is you were going on about before."
"It's not nonsense Ginny! It's really going to mak—"
"Harry relax! I was only joking. Jeez! I can crack jokes about anything I want except anything manly and war-related."
Harry laughed and Ginny laughed too.
"You know I love your hero obsessions. I just enjoy making fun of those who ask for it. And talking about something called kung-foo definitely qualifies as asking for it."
"You're right, you're right."
"I know I'm right."
"So what are you going to make fun of next. I haven't been through enough? I need to be mocked by my girlfriend too?" He smiled playfully.
"What a tragic life you have."
She kissed him.
"So does that mean you're done making fun of me?"
"Oh I suppose, although you're hair does stick up sort of weirdly in the back and I must say that scar on your forehead is pretty funny looking... but I like it. It's very cute."
She kissed him again.
"I'm glad you said that. I've grown pretty fond of it after all we've been through together me and that scar."
He reached up to touch it but she held his arm back from his face.
"One more." She kissed him a third time.
"Okay, you can go now." She said releasing his arm.
"I'm glad I've got your permission. I'll tell Ron you fell down the stairs." Harry answered.
"Oh. You should! But you'll have to let him believe it for more than a few minutes so he'll do something funny and rash."
"Hmm...maybe I will, but I really have to go now." He said walking slowly backward but not wanting to turn away yet.
"Okay, first Hogsmeade weekend is next month." she called after him.
"Right, so I'll see you tomorrow?" He said pulling the invisibility cloak over himself, now half way down the hill but still not taking his eyes off her.
"You read my mind! Try not to be late again…"
"Can't make any promises." He disappeared beneath the cloak and although she had no way of knowing, his eyes never left her until she was gone from view behind the great oak doors of Hogwarts.
----------------------------------------
"Aww! Don't bloody joke like that Harry! You had me going there for a while. I was already trying to think of a way to get to Hogwarts without mum knowing!"
Ron and Harry were sitting in Ron's room and Harry was telling him about his day. Ron was sitting on his bed with this legs crossed, bouncing a quaffle idly off the wall. Harry made a mental note to Ginny it was the wall and not the ceiling.
"Yah, well I couldn't help it! The look on your face was worth it all though. Oh by the way when'd Hermione go?"
"Oh, 'bout seven I'd say, somewhere around there, really early, wanted to get back to her parents you know."
His ears went slightly pink and he dropped the quaffle the next time it came to him.Harry decided not to cause him further embarrassment.
"So we'll have to start on our NEWT stuff soon, won't we. I can't believe Kingsley is going to let me do this! You should join up too so we can do it together."
Ron's face lit up at the thought, "Yah! That would be wicked! I did want to at first—be an auror I mean-- but George has been bugging me to come down and help him with the shop. Lee has to take a leave of absence for a while in the spring and George says that business is getting out of control. At the rate they're going they'll not only have more than enough money to buy Zonko's but they'll
have
to in order to fit all their orders in! They're making so much money now…I'd like to have a piece of that."
Ron's eyes glazed over a moment as he sat and dreamed about the money he could make as a partner of Weasley Wizard Wheezes.
"Being an auror pays really good too. Or at least it does now. Ez said the program pays a lot better now than it use to. Before the Ministry tried to cheat its workers out of as much money as they could but Kingsley appreciates people and makes sure they get what they deserve."
"Who's this Ez bloke again?" Ron caught the ball and held it under his arm to look at Harry. "He's the guy who's trying to learn muggle fighting right?"
"Yah, his real name's Ezakiah but he goes by Ez. He's Kinsley's head for the new auror program."
"Ezakiah? Who name's there kid Ezakiah?" Ron said thrusting the quaffle at the wall again, "Honestly, where do people come up with these names? I heard this muggle kid in St. Mungo's when we were there a few weeks ago, and his mum called him Aarwinsky, I thought she sneezed at first but the kid turned around. Then there was another kid named Hugo, and I can't even begin to think what possessed his parents to name him that! Nice kids, mental names." The quaffle hit the wall with a thud and he caught it again absentmindedly. Harry laughed.
The rest of the night went by without much excitement, Harry liked it best that way, and by the time he found himself warm and snuggled up in his bed, he was so happy and content that even an encounter with Amycus Carrow wouldn't have been able to spoil his mood. He drifted off to sleep with the knowledge that he would be spending the year in happy normality with Ron, Hermione and Ginny, and that his conscience was clear and his future had never been brighter.