Love the new graphics - you do such great work! This one's my favorite - very "cheery."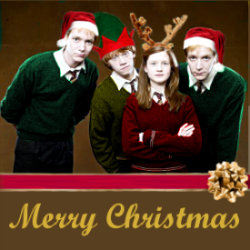 ETA
Forgot to mention - my fave is still the Fat Lady in Christmas Garb - very original! Who would have thought to dress her up? She looks great, and your additions fit the character. She looks very proud!
And I really love your current icon and sig pic. It's obvious you really value Ron and Hermione, and it shows. Very lovely!
__________________

avatar by me and WB, banner by Dark_Disciple
When I'm 80 years old and sitting in my rocking chair, I'll be reading Harry Potter.
My family will say to me, "After all this time?"
And I will say, "Always."
- source unknown